About the product
Our business offers a range of modular components that enables you to design and build a variety of versatile structures to aid storage, assembly, manufacturing and other operations.
Our product is both versatile and cost effective as all pipes and joints are reusable, enabling constructions to be easily reconfigured or products recycled to create equipment to suit different applications.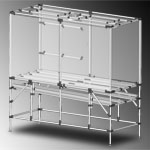 Our product provides individual solutions for:
Dynamic Flow Racks
Assembly Lines
Cell Feed Systems
FIFO Picking Systems
Shelving and Racking
Carts, Trucks and Trolleys
Assembly and Packing Benches
Kitting Sytems for Parts
Notice Boards, Sign Holders, Safety Signs
Conveyors
Most joints require only a 5mm Allen Key for assembly. No special tools or technical skills are required to achieve the desired results.
A wide range of accessories such as castors, adaptors, roller tracks, label holders, tube end bungs, adjustable feet, hinges, towing hitches and many more enables your application to be customised: an ideal system to apply to operations where Kaizen (Continuous Improvement) and Lean Manufacturing concepts are applied.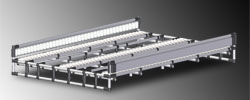 With our product you will achieve:
Better ergonomics
More productivity
Reduced lead times
Versatility
Re-usability
Cost efficiency